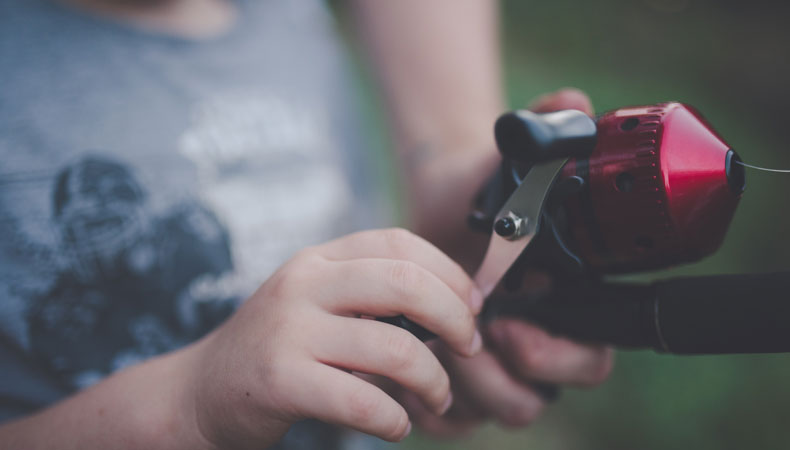 Trolling
What is Slow Trolling/ Spider Rigging
The slow-trolling method known as spider rigging has been used for years. It will work on nearly all bodies of water. Using long crappie poles, the idea is to cover as much water as possible to find the elusive crappie.
Loading up six to eight rods on the front of the boat allows me to cover a wide path and have a more stable boat while trolling. With two people sitting in the front of the boat, the added weight pushes the boat deeper into the water, stabilizing it. This prevents waves from constantly bouncing my poles and making my bait bounce up and down. Unlike white bass fishing or hybrid fishing most crappie will not hit your bait if it's moving fast.
I also have my transducer on my trolling motor and the graph is up front so I can position my boat over the break lines of a creek channel by keeping a constant look at my electronics and making constant adjustments with my trolling motor. In most cases I am fishing the sides of these drop offs and by watching my graph I am able to keep my boat directly over this area.
Gear & technique
I troll with six to ten foot poles, mounted on a Bee-Ready rod-holder system. I usually rig my rods with two hooks by tying on a swivel and two leader lines of 6-10lb pound test. The first leader is about 6 inches long. I run a bottom leader (dropper) of about 24- 30 for catching suspended fish. my rigs are weighted with an egg sinker attached to the 24-inch dropper, between the swivel and the bottom hook or lure. I secure the sinker by running the long leader through the weight 4 times then attaching it to the swivel. I favor a 1/2-ounce slip sinker, although I will switch to a 3/4-ounce on windy days or if I am fishing deeper than 35-40ft.
Winter is when I spider rig the most, because crappies hold deeper, and on the edge of the channels, relating to a break line. Since crappies can be scattered anywhere along a break line, I think my chances are better when spider rigging with multiple poles rather than trying to vertically jig with one rod. When spider rigging an open bank I will use the trolling motor to pull the boat at a speed at which my lines are less than a 15 degree angle I watch my lines carefully checking them at any hint of movement. I will lift my pole as soon as I detect anything unusual on my pole. Crappie can hit extremely lightly and if you don't lift your line you are probably missing fish. During the other seasons I don't troll much because I am able to catch crappie faster on the many lake docks and manmade brush piles.
I will always troll against the wind, I can maintain much better boat control that way. If I get hung on something I can let the wind just push me back and I won't have to retrieve all my lines and turn the boat around. Good luck if you try this technique and be patient. At first it can be frustrating keeping that many poles going at the same time.